About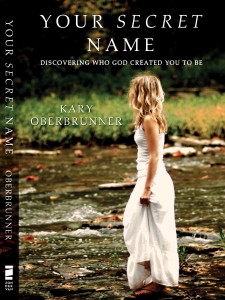 You have 3 names:
Birth Name–the name assigned to you when you arrived in this world.
Given Names–the names you inherit while walking in this world (positive and negative).
Secret Name–the name granted to you by the One who made you.
He who has an ear, let him hear what the Spirit says to the churches. To him who overcomes, I will give some of the hidden manna. I will also give him a white stone with a new name written on it, known only to him who receives it.
– NIV Revelation 2:17
We all have one–a Secret Name that is. The Bible tells us so. Yet few of us know ours. Ignorantly, we're stuck, caught up in the "Name Game," searching for our true identity.  Author Kary Oberbrunner takes you deep, past clichés to discover Your Secret Name and the vision God has for your life.
The Author
Kary Oberbrunner has a burning passion—igniting souls. Through his writing, speaking, and coaching, he helps individuals and organizations clarify who they are, why they are here, and where they should invest their time and energy.
Kary struggled finding his own distinct voice and passion. As a young man, he suffered from severe stuttering, depression, and self-injury. Today a transformed man, Kary invests his time helping others achieve their true potential. He is the founder of Redeem the Day, which serves the business community, and Igniting Souls, which serves the non-profit community.
The author of several books, he and his wife Kelly are blessed with 3 amazing children.
Visit KaryOberbrunner.com