Free
Read Sample Chapter
Spread the Cause
Hope
Every day people just like you find freedom and learn to grow in grace.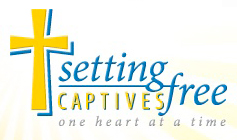 Courses are free of charge and help people escape impurity, over-eating, substance abuse, gambling, smoking, self-injury, and more. Join the more than 269,347 people who have benefited from Setting Captives Free.
Setting Captives Free exists to offer Christ-centered Hope and Freedom to those in the grip of sin through accountability to Bible-based Truth resulting in the true enjoyment of Life in and for the Glory of God. Visit www.settingcaptivesfree.com
I KNOW WHO I AM
Do you want to get greater clarity about who you are and whose you are?  Do you want to discover your True Identity?
If so, listen to the following message and discover what thousands of others have already experienced.
(Windows users Right Click -> Save As, Mac users Command -> Mouse click.)
LEADER'S RESOURCES
(Pastors, Teachers, Leaders and Counselors)
You fill a unique place in my heart. I've been one myself for well over a decade and I understand the stress, sorrow, joy and the pain that comes with the territory. I realize the time constraints you have as you help people accept their Given Names in order that they may discover their Secret Name. And so I've developed a number of free tools to assist you.
Your Secret Name Study Guide – a free resource that helps you lead small groups through Your Secret Name.
The Name Change – a biblical process that helps you discover the truth about yourself and your Father. This worksheet is meant for a facilitator and participant to go through together.
Independent YSN Speaker/ Trainer Certification Program – Want to join our team and get paid for it? Click the link to find out more. We're serious about partnering with God to set people free. Are you?
Discussion Points (see below) Your Secret Name contains discussion questions at the end of each chapter.
Introduction: The Gentle Whisper
When's the last time you've wondered who you really are?
Are you completely secure in understanding who you are? Why or why not?
Please explain what currently shapes your identity.
Are you fully resolved concerning certain monumental issues, like discerning your purpose, calling, and lot in this life?
What fears do you have related to exploring the Name Game?
Chapter 01: A World without Names
What's the meaning of your Birth Name? If you don't know, please do some research.
What are some of the "Given Names" people have granted you?
Who gave you these names and why? How did/does hearing these names make you feel?
How have you tried to hide from these name(s)?
Do you believe you've been created for more than your life presently reflects? If not, why not? If so, do you have any indication what this destiny might be?