under
Secret Stories
,
Written
on December 2, 2010
One morning a few weeks ago I was spending way too much time on Facebook while sipping my morning tea and I came across a link posted by a friend. The link was to a website promoting a new book called Your Secret Name by Kary Oberbrunner.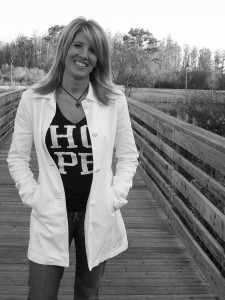 The premise of the book is that as we journey through life we pick up names based on what others speak over us, or experiences that we have had, or choices that we have made. Some examples of those names could be ABANDONED or FEARFUL or REJECTED or FAILURE…you get the idea. In his book, Kary relays the fact that God has given each one of us a new name based on the verse in Revelation 2:17 that says:
He who has an ear, let him hear what the Spirit says to the churches. To him who overcomes, I will give some of the hidden manna. I will also give him a white stone with a new name written on it, known only to him who receives it.
On the website there is a box you can click on that says, "TAKE THE TEST" (to find out what your secret name might be).
Now, I have to admit I was a little skeptical at first and was thinking maybe it was a little gimmicky but I am a sucker for those kinds of tests so I proceeded. As I looked through the list of potential names that I may have acquired the one that jumped out at me was DEPRESSED. I could have picked a few but I have battled that several times in my life so I really related to that one. I clicked on it and the next page said:
God's secret name for you could be: HOPE

 
When I read the name HOPE it resonated with me so deeply that I took a long, deep breath and exhaled slowly as if I was actually breathing it in and allowing it to move through me. I thought…yeah…my secret name is definitely HOPE. I've known it for some time now. Hope is what has gotten me through many seasons and it's become my story. It's what drives me to want to reach out to others and share it. If you've ever felt hopeless then you know what I mean. Once you grasp it you want to give it away because there is an unending supply – plenty to go around.
So that was pretty cool but it gets better…
After I shut off my computer, I went about my day and ended up at the International Mall (don't know how that happened!) Mid-way through my shopping excursion I decided to stop at Starbucks for my afternoon pick-me-up. I ordered my Grande Cafe Misto with whipped cream. My barista grabbed a cup and her pen and started to ask my name as they usually do. Here's how it went…
Looking down at the cup she started to say,
 "What's your name" but then she looked up and only got out "What's your…" before she stopped mid-sentence, cocked her head to the side and said decidedly, "I'm going to call you HOPE". Then she wrote it as my name on my cup!!
I was absolutely speechless. I must have gone white as a ghost because I was so shocked. I just stood there staring at her like "How did you know my secret name???????????????" She quickly realized that she had completely freaked me out so she started pointing at my shirt and said, "you know…HOPE" with this really nervous pleading smile. Poor girl!
Apparently in my rush to get dressed that morning I had thrown on my shirt that says HOPEand then (because I have serious short term memory issues) had totally forgotten that I had it on. Here I was thinking she was an angel from heaven disguised as a Starbucks barista confirming my secret name to me in person and she was just naming me from my shirt!
Anyway, I go to Starbucks a lot. I wear shirts that say things on them quite often. I have never had anyone write anything on my cup besides the name I have given them. Sooooo even though she was just a regular earthly barista I thought it was a pretty awesome coincidence!! I wish I could have told her the story but there was an enormous line behind me. I just smiled and told her that she had just made my day. That seemed to make hers 🙂
I had the pleasure of speaking with Kary (the author) on the phone about his ministry. He is passionate about the same things that we are at For the Girls International – helping people discover who God created them to be and helping them live out their purpose in freedom and grace!
So what is your secret name? Check out the website when you have a minute. What you find out might surprise you or maybe confirm what you've known all along.  –Tracey Metzger
---